Photograph by Danny J. Brown, Audubon Center at Riverlands

25th Swan Conference
November 19-21, 2019 in Alton, Illinois
We're Sorry. Registration is closed.
The 25th Swan Conference has something of interest for anyone who enjoys Trumpeter Swans, wants to learn more about Trumpeter Swans, or who is involved with Trumpeter Swan restoration and management. Whether you are a wildlife professional or someone who loves Trumpeter Swans, the mighty Mississippi and Missouri rivers, and nature-rich wetlands, this conference is for you!. Birders, photographers, and anyone who wants to learn more about North America's Trumpeter Swans is warmly invited to attend!
The theme of the conference is "Swans, Confluences and Rivers... Connecting People." A series of presentations will highlight how Trumpeter Swans connect people to the importance of wetland conservation and healthy waters needed by wildlife and people. There will be updates sharing how Trumpeter Swans are doing across North America and the successes and challenges swans experience in different regions.  You will hear about the latest swan research including Yellowstone National Park and other swans of the west, plus an exciting multi-state Midwest swan tracking project. All this and much more.
A fun and educational all-day field trip will explore the area's swan wintering sites including National Wildlife Refuges as we travel along the Mississippi's Great River Road. A delicious Gala banquet with live music, a keynote presentation by local famed photographer Danny J. Brown, and an amazing silent auction make a delightful and wonderful end to the 25th Swan Conference.
We hope you will join us!
---
"Swans, Confluences and Rivers...Connecting People"
Where: Alton, Illinois (Best Western Premier Alton-St.Louis Area Hotel)  3559 College Avenue| Alton | IL | 62002
Our hosts: Audubon Center at Riverlands
                  Riverlands Migratory Bird Sanctuary
Costs: FULL Registration fee includes 2 days of presentations, all-day Field Trip and Gala Banquet.
Total Full Registration for all 3 days: $190 (presentations, all-day Field Trip, Gala)
Registration closed Nov. 15, 2019
Or pick and choose your options
> Presentation Days registration (Tuesday and Thursday (2 days of presentations, includes lunch and break snacks): $120.
> Single Day . Choose Tuesday or Thursday. Early Bird $60/day.
> Field Trip (includes lunch and sunset swan viewing & social reception at Audubon Center with complimentary hors d'oeuvres and drinks provided): $30
> Banquet and Silent Auction: $40
---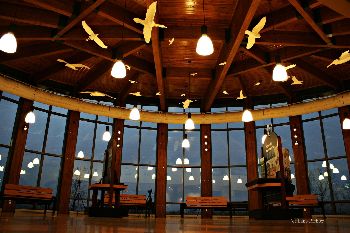 Swan Conference Schedule
Best Western Premier Alton-St. Louis Area Hotel
3559 College Avenue| Alton | IL | 62002
618.462.1220|
Monday (Nov 18)
   Evening social at the hotel (6:00-8:00 pm).
Tuesday (Nov 19)-
    Presentation day (8:00 am- 5:15 pm)
Wednesday (Nov 20)-
   Field trip day and evening swan viewing and social at Audubon Center at Riverlands (8:00 am-6:00 pm)

. Full Itinerary
Thursday (Nov 21) -
   

Presentation da

y (8:30 am- 5:00 pm)
    Gala Banquet (6:00-10:00 pm.)
Friday (Nov 22) - Travel day home
Learn more about each's day activities
---
Travel and Accommodations: Learn more
---
25th Swan Conference Sponsors
The Trumpeter Swan Society, Riverlands Migratory Bird Sanctuary and the Audubon Center at Riverlands would like to thank the Agencies, businesses, and organizations listed below for their generous sponsorship support of this conference.
Cygnet Sponsor ~ $1,000

Contributing Sponsor ~ $500 - $999
Supporter ~ $100 - $499
Delta Waterfowl Foundation

Dr. Gary Ivey

Lower Illinois River Valley-Rural Prosperity Initiative

The Dr. Jerome Katchin Waterfowl Foundation
Are you interested in learning more about becoming a valued Conference Sponsor?
---
Donate to the Silent Auction
A silent auction will be held as part of the 25th Swan Conference. The auction is an opportunity to donate an item, or experience, gift cards etc. to help raise valuable funds for trumpeter swan conservation.  If you are a business or organization it is another opportunity for sponsor visibility at our conference as we will display items with literature about your organization that you provide us.
Popular silent auction items include original artwork or photography, signed and unsigned books, outdoor gear and clothing, specialty food items, and swan, bird, or outdoor-themed items, gift cards, experiences, and themed baskets.
To make a donation, complete this form and mail/email it to the Audubon Society at Riverlands. Donated items may be sent separately or hand-delivered to the conference. Mailed items must be received by October 31, 2019. Thank you!