Photograph by Amanda Kerr
Juvenile Swan Identification
It can be difficult to tell the difference between a juvenile swan, known as a cygnet (pronounced "sig-net"), of Trumpeter and Tundra Swans. Both Trumpeter and Tundra juveniles are gray in their first fall and winter. However, Tundra Swan cygnets generally turn white by March of their first winter, while Trumpeter cygnets do not turn white until the summer of their second year.
Feathers and legs:
Trumpeter juveniles are darker sooty gray, especially in the head and neck area. Their leg and foot color varies from pink to yellowish to dusky brown through their first year. Trumpeter juveniles usually remain darker gray longer than Tundra Swans.  Trumpeter juveniles have gray feathers on the head and neck persisting well into spring. Wintering Trumpeter juveniles may vary in age by up to 6 weeks due to geographic differences in hatching dates. As a result, they show considerable individual and geographic variation in the timing of their molt into white plumage during their second summer.
Tundra juveniles are brighter silvery gray with black legs and feet.  Their feathers begin turning white in late December. By mid-March they are nearly all white.
Bills:
Trumpeter bills are black at base and tip with a pink middle early on, turning black over their first year.
Tundra bill color is usually mottled pink with black tip, with less black at the base than Trumpeters.
Juvenile bill color in winter gradually shifts to all black in both Trumpeter and Tundra Swan species.
Mute swan cygnets have black bills, shifting to orange and black at maturity.
Someone described the difference between Trumpeter and Mute Swan cygnet bill coloration as "Nature's little joke."  Trumpeter Swan cygnets have mostly pink bills, turning to black.  Mute swan cygnets have black bills, turning to orange and black.
Trumpeter Swan cygnets through year one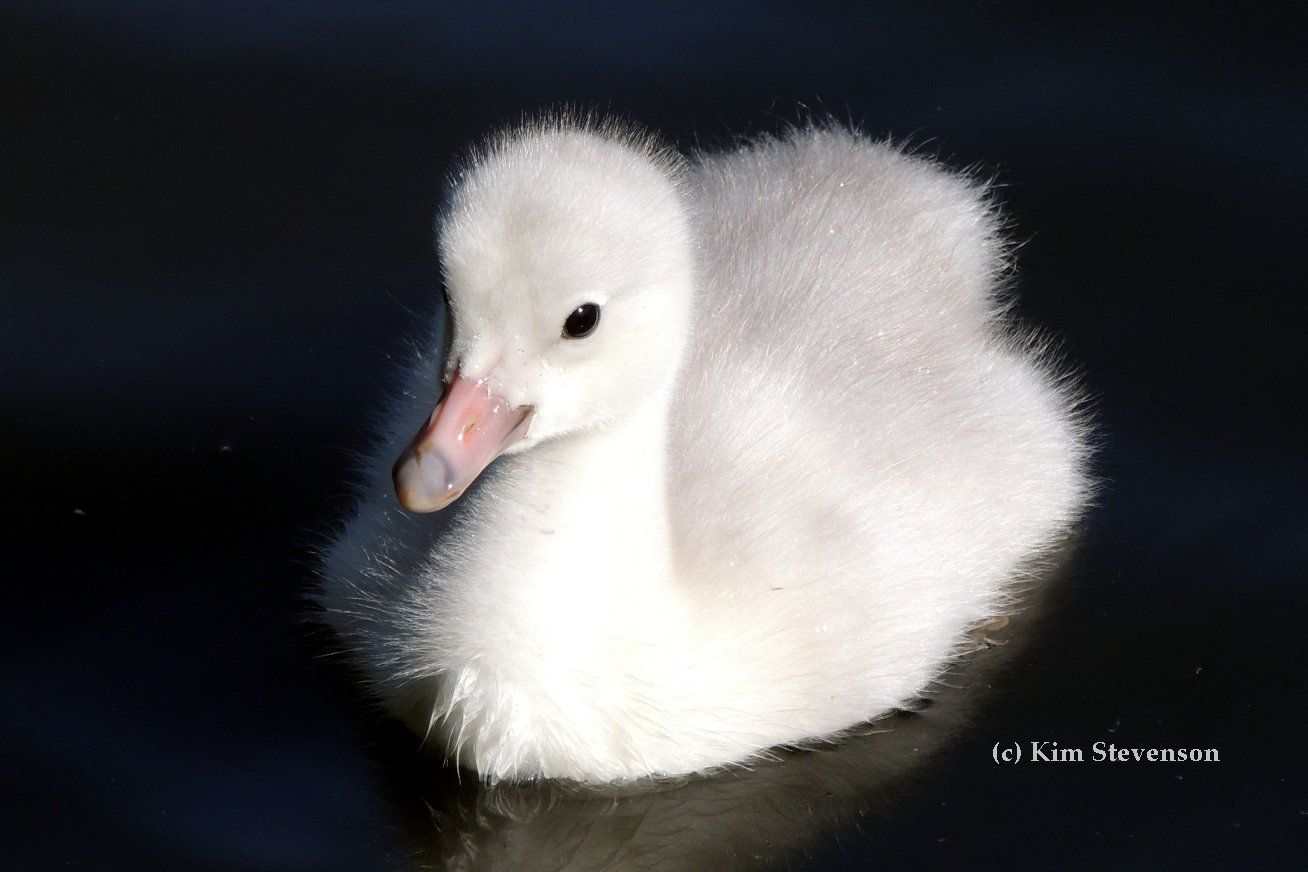 Newly hatched Trumpeter Swan cygnets with more to go!

The Trumpeter Swan female (pen) continues to carefully incubate her eggs while newly hatched cygnets remain under her for warmth. Once all the cygnets are hatched, they will travel together with the pen into the water within 24 hours of hatching.
Photograph by Doug Haight

Legs and feet

Newly hatched cygnets have pinkish legs and feet that will gradually darken over the summer.
Photo by Amanda Kerr

Trumpeter Swan cygnets eat mostly invertebrates and accessible aquatic plants during their first months.

Cygnets rely on the valuable protein of invertebrates and insects during their first few months. They also eat duckweed and easily accessible aquatic plants, either stirred up by their parents or near the water's surface.
Photograph by Hadassah Zohara

Trumpeter Swan cygnets grow rapidly during their first three months

Trumpeter Swan cygnets grow rapidly during their first summer. Parents stir up food from the water's sediment with their large feet to make feeding easier for the cygnets. The cygnets are vulnerable to predators such as snapping turtles, eagles, coyotes and other animals. It is not uncommon for only about half of the brood to survive to "fledge" (learning to fly) at about 12 weeks.
Photograph by Kim Stevenson

By fall, the cygnets are nearly as large as the adults

By September/October, when cygnets learn to fly, they are nearly as large as the adults. They now feed mostly on aquatic vegetation, as their necks can reach to the water's sediment level for tubers, roots and other vegetation. Cygnets now have grey feathers, and their bills will gradually become black over their first winter.
Photograph by Hadassah Zohara

By their first winter Trumpeter Swan cygnet feet and legs vary in color

Trumpeter Swan cygnet feet and legs vary in color during their first winter. Many are dusky brown to black, while other cygnets have more yellow in their feet and legs.
Photograph by Margaret Smith

Wintering Trumpeter Swan cygnet

Trumpeter Swan cygnets are easily spotted on wintering grounds with their grayish/brownish feathers. They remain with their family group and will arrive and depart on the wintering areas together as a family. Generally the family returns to the nesting grounds in early to mid-March, weather depending. The swan parents will 'kick out" the cygnets upon their return as they will want to start another brood.
Cygnets will turn completely white during their second summer. Often yearling siblings remain together and explore the landscape. Swans will reach breeding age usually between age 3-6. They will generally return each year to the wintering areas the parents took them to, with their own families.
Photograph by Richard Sonnen
Learn more about Trumpeter Swan family bonds and traditions

---
Tundra Swan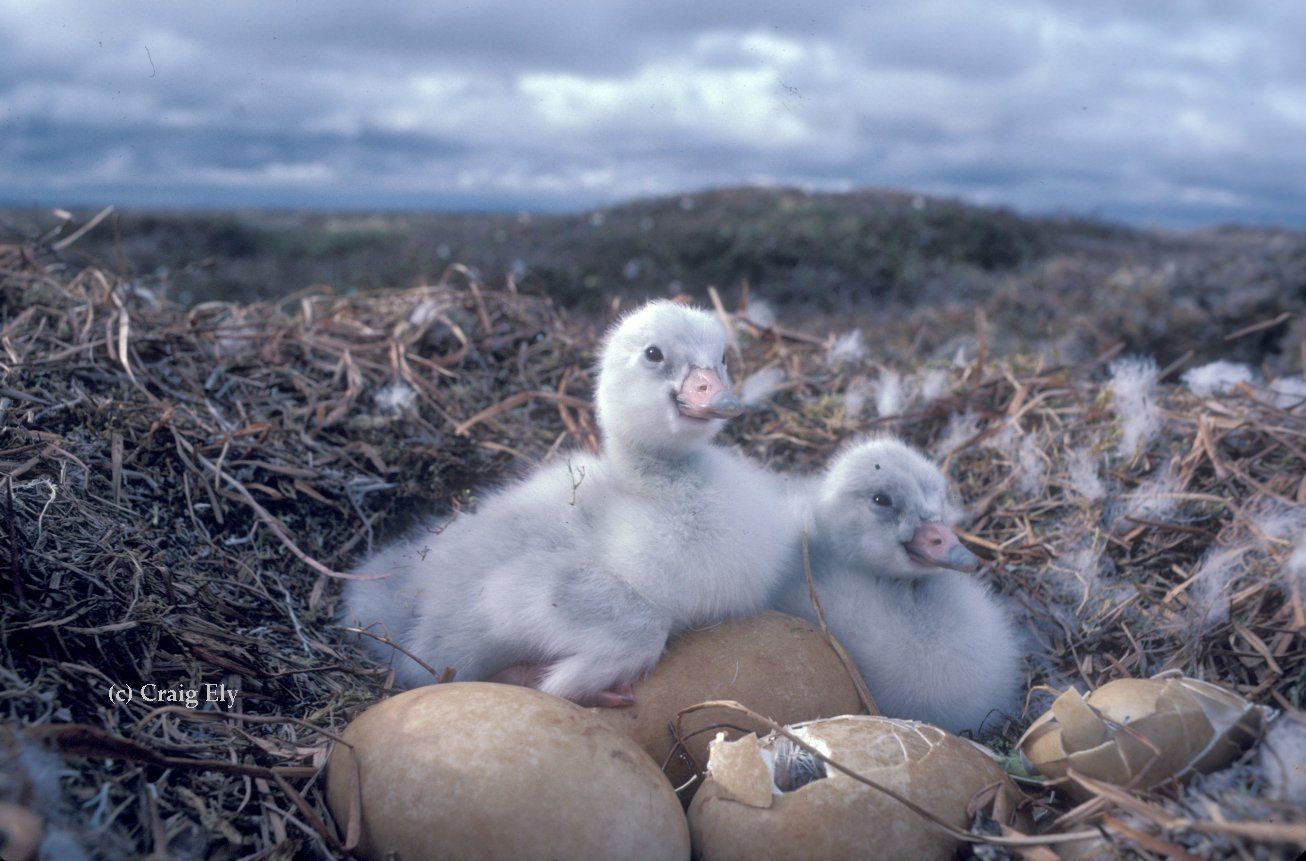 Tundra Swan cygnet, light gray feathers

Photographer unknown
Above: Tundra Swans in early December, plumage all light gray, legs black.

Tundra Swan, winter, feathers mostly white

Photograph by Ron Dexter
Above: Tundra Swan in mid January, nearly all white body, yellow showing on lore, black legs.

Tundra Swan cygnet, pink bill

Photograph by Kurt Schwarz
Above: Toward the end of their first winter Tundra Swan feathers turn white following earlier pale gray plumage; pink bill with black base and pink tip.

Tundra Swan cygnet legs and feet

The legs and feet of a Tundra Swan cygnet have become all black by its first winter. Photograph by Kurt Schwarz
Explore the migration routes and range maps of Tundra Swans, Trumpeter Swans and other swan species

---
Mute Swan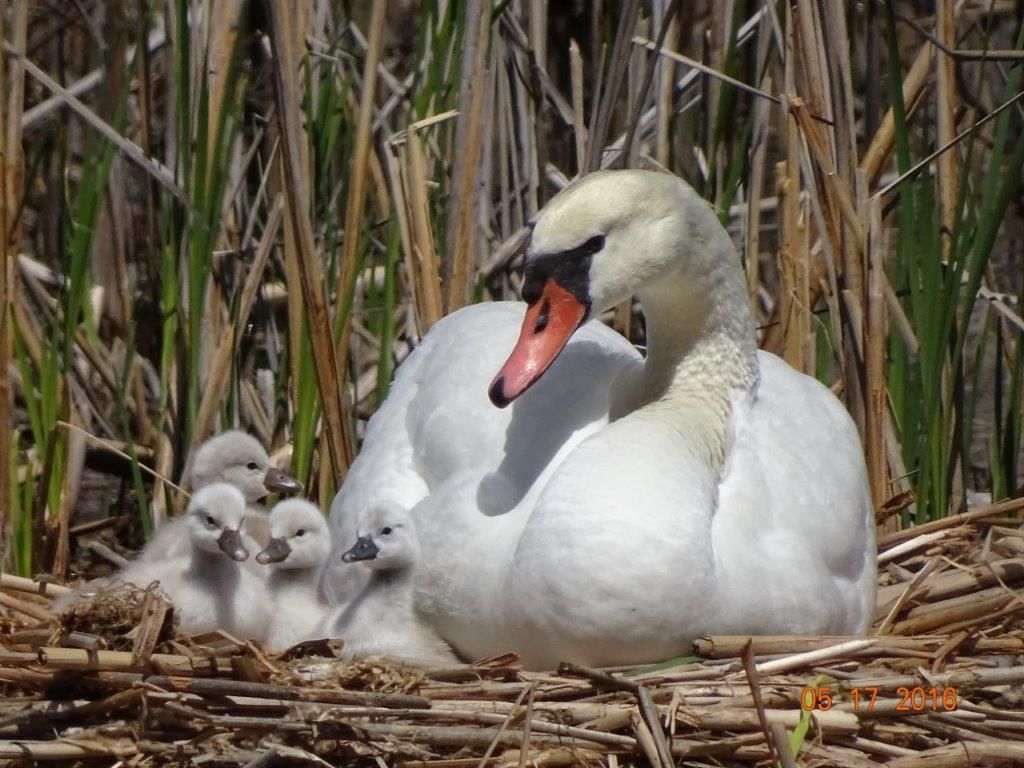 Mute swan cygnet with adult Mute swan

Even at this stage, you can see the patterning on the cygnet's bill that will eventually turn orange and black.
Photograph by Sara Boyle

Mute swan cygnet

Photographer unknown
Above: Mute Swan juvenile plumage is white with brownish splotches; bill grayish orange with black base. Legs and feet are black.