Educational Activity Book!
The first of our children's educational activity books is ready to download and share now!
With this fun and educational activity book, a young child will learn about trumpeter swans and their wetland home!
The book is based on Next Generation Science Standards (NGSS) and is designed for classroom learning too.
Nature Explorers, for Kindergarten through Grade 2, explores the world of trumpeter swans. Learn about their large size and spring and fall migrations. Discover their adaptations and what makes a healthy wetland home.
There are QR codes to listen to the sounds of trumpeter swans, watch them fly in and land, and see a trumpeter swan family.
There is also an Answer Key that can be downloaded separately.
This new and exclusive coloring and activity book is fun for kids and adults!
This book was designed exclusively for the Trumpeter Swan Society by Peppermint Narwhal.
Download it today.
This book and our web page link can be shared with anyone in the world to explore and learn about trumpeter swans and their wetland home.
Download the Grades K-2 Nature Explorers Book! Click the Picture
This is a large 7MB pdf. that may take a minute or two to download.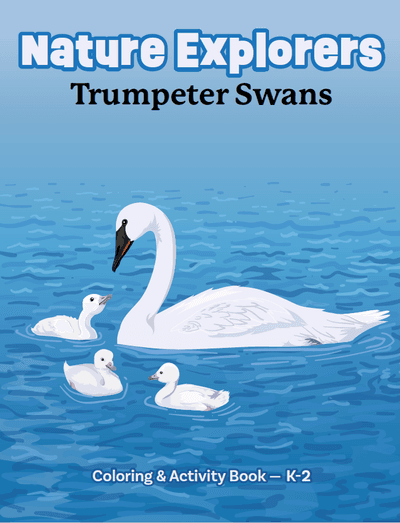 (To download a two page spread of K-2 Nature Explorers, CLICK HERE)
Below: ANSWER KEY to Grades K-2 Nature Explorers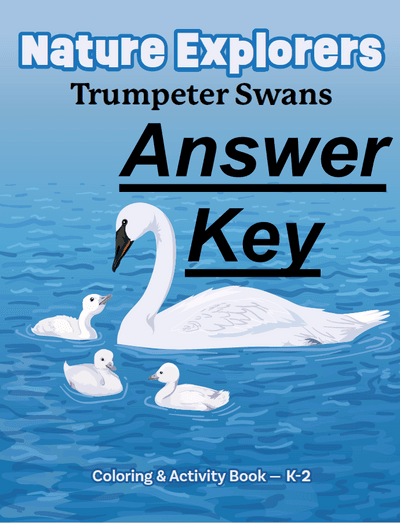 Coming Soon: "Grades 3-5 How Can I Help?" Book and Answer Key
Would you like to help a child learn about swans and their wetland home?
Your gift today will be used to create more education and activity books for different grade levels!