Photograph by Margaret Smith
BOARD OF DIRECTORS & Staff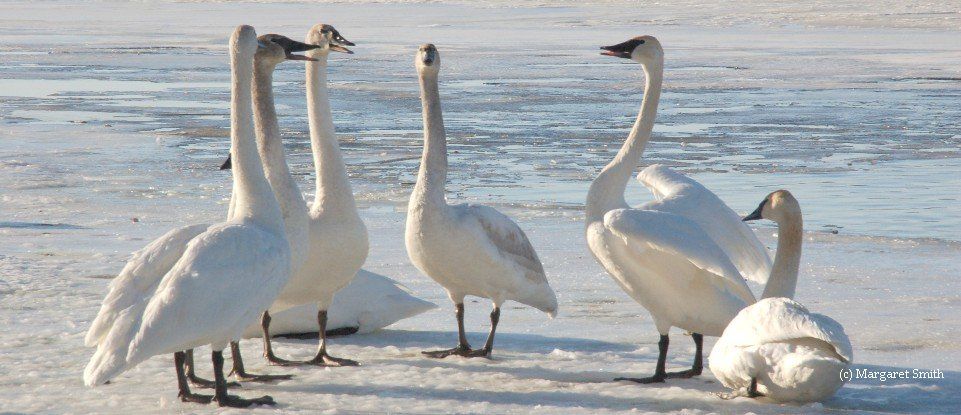 The Board of Directors come from each of the four continental flyways: Pacific, Central, Mississippi, and Atlantic. The Trumpeter Swan Society Board includes people from across North America with many years of Trumpeter Swan and waterfowl experience, agency leadership experience, and business, investment and legal expertise.
Jeff Nelson, President

Bozeman, Montana
Education: B.S., University of Minnesota, M.S., Utah State University (Wildlife Ecology)

Jeff Nelson worked for 30 years with Ducks Unlimited in both the U.S. and Canada, finishing his career with the organization as Chief Executive Officer at DU Canada. While at DU, he served in several positions including in the U.S. as Chief Biologist and Director of the Great Plains Regional Office in Bismarck. He recently retired from the World Wildlife Fund after six years as Deputy Director for their Northern Great Plains program. Jeff has served on the boards of the Prairie Pothole Joint Venture, Northern Great Plains Joint Venture (co-chair), Wildlife Habitat Canada, and Ducks Unlimited Canada. He remains focused on conservation of the continent's grasslands and the birds that depend on them. Jeff spends his free time hunting, fishing, hiking, and enjoying the great outdoors with his family, both in Montana and Nova Scotia, Canada.

Tiffany Mayo, Vice President

Cleveland, Ohio
Education: B.S., Ohio University (Wildlife Biology with an Environmental Certificate)

Tiffany Mayo has been a full time Animal Keeper at Cleveland Metroparks Zoo for 18 years. She is currently the Lead Keeper of the Hospital/Commissary area with a focus on avian incubation and hand rearing. She has been the Association of Zoos and Aquariums (AZA) Trumpeter Swan Species Survival Plan Coordinator and Studbook Keeper since 2016. In this position Tiffany assists in managing the Zoological population of trumpeter swans, coordinates Zoo participation in restoration programs, and works to promote waterfowl and wetland conservation. She serves on the Small Grants Committee for the AZA Anseriformes Taxon Advisory Group (TAG) providing funding for waterfowl conservation projects and professional development opportunities. She is an active member of the Greater Cleveland Chapter of the American Association of Zookeepers which raises money for conservation initiatives around the world.

Tiffany strives to collaborate with conservation organizations to achieve the unified goal of connecting people to their local environment using swans and other waterfowl and in turn inspiring action to protect wildlife and wild places.

David Myers, Treasurer

Idaho Falls, Idaho
Education: B.S., University of Oregon (Accounting and Quantitative Methods)

Dave Myers is a business owner and CEO with a professional background in finance and accounting. He spent six years as a CPA of a national CPA firm and 18 years of financial management of various business enterprises. He has been at his current business for 20 years, which is owned with his sons and is in food service with locations in Idaho, Iowa and Tennessee. In addition to operating the franchise stores, he has served on the franchise system's national leadership counsel of the Franchise Advisory Board as well as marketing and technology.

Kenneth F. Abraham

Peterborough, Ontario
Education: B.A., Luther College, Decorah, Iowa (Biology); M.S., Iowa State University (Wildlife Biology); Ph.D. Queen's University, Kingston, Ontario (Ecology and Evolutionary Biology).

Ken is an Emeritus Research Scientist with the Ontario Ministry of Natural Resources and Forestry and retired in 2013 following a 40 year career in wildlife ecology and conservation which took him to locations throughout the North American Arctic. As an Ontario public servant, his work focused on the Hudson and James Bay region and on understanding ecological relationships of birds and wetlands, especially waterfowl. His work also had an academic context as he co-supervised the research of many graduate students at several universities.

Ken considered that his primary responsibility as a public servant was to help protect and manage the natural resources of Ontario and North America. In pursuit of that objective, he dealt with the public, non-government organizations, First Nations and other governments by helping develop and implement wildlife population and habitat management and monitoring plans, applying the results of his own and others' research. He served on the Mississippi Flyway Council Technical Section and technical committees of two North American Waterfowl Plan Joint Ventures (Eastern Habitat, Arctic Goose) and continues to be a member of the Management Board of the Arctic Goose Joint Venture. He was a member of the team that undertook the first continental assessment of the North American Waterfowl Management Plan. He was previously on the board of Birds Canada and is currently on the board of Trumpeter Swan Conservation Ontario. Ken remains an active writer and reviewer in the field of waterfowl and wetlands conservation.

Michael Anderson

Winnipeg, Manitoba, Canada
Education: B.S., Colorado State University (Wildlife Biology); M.S., Utah State University (Wildlife Science); Ph.D., University of Minnesota (Ecology, Evolution and Behavior)

Mike Anderson is presently Emeritus Scientist at the Institute for Wetland and Waterfowl Research. He helped found the Institute in 1991 and was employed with Ducks Unlimited Canada from 1990-2013. Before retiring, Dr. Anderson had broad responsibilities for DU's scientific investments and adaptive management culture. He also assisted with strategic and operational planning for DU nationally.

Prior to joining DU, Mike spent 18 years at the Delta Waterfowl and Wetlands Research Station, last serving as the Station's Director. He has been involved in waterfowl research, primarily on the Canadian prairies, since 1972. Mike has been engaged in national- and international-level waterfowl management working groups for nearly 30 years. He continues to serve on the North American Waterfowl Management Plan's International Plan Committee and related technical teams, writes articles for scientific journals and outdoor magazines, and recently edited a book.

Brad Bortner

Cathlamet, Washington
Education: B.S., University of Vermont (Wildlife Biology), B.S., University of Vermont (Forestry), M.S., University of Maryland-College Park (Animal Sciences)

Brad Bortner retired from the US Fish and Wildlife Service after 33 years as a migratory bird biologist and manager. He served as Chief, Division of Migratory Bird Management in USFWS Headquarters from 2011-2017. Previously, he served in Portland, Oregon as Chief, Division of Migratory Bird and Habitat Programs, Pacific Region, USFWS from 1992-2011. He also served as a migratory bird biologist and supervisor for the Migratory Bird Division at the Patuxent Wildlife Research Center in Laurel, Maryland. He started his federal career as an ecologist with the Office of Hydropower Licensing, Federal Energy Regulatory Commission.

During his career, Brad was involved in many partnership efforts to conserve and manage migratory birds and their habitats at international, national and regional scales. His job took him to Russia, Japan, and to all Canadian Provinces and States in the United States. Brad served on the boards or technical committees of the Intermountain West Joint Venture, Seaduck Joint Venture, Black Duck Joint Venture, Pacific Coast Joint Venture, and Central Valley Habitat Joint Venture. Additionally, he worked closely with all four Flyway Councils and their Technical Committees.

Brad is the son of a U.S. Navy Captain and grew up in Annapolis, Maryland where he developed his lifelong interest in waterfowl, especially swans. Brad banded his first waterfowl including swans as a high school student volunteering with Dr. William Sladen of Johns Hopkins University. Brad also spent a year studying swans under Dr. Sladen in graduate school before completing his master's degree research on the bioenergetics of Tundra Swans wintering in North Carolina. Brad and his wife live on a hay farm in Washington State. He enjoys waterfowl hunting, building furniture, carving decoys, training his Labrador retrievers and just about anything else outdoors.

Daniel Casey

Billings, Montana
Education: B.S., Colorado State University (Wildlife Biology); M.S., Colorado State University (Wildlife Biology)

Dan Casey's professional career has been based in Montana since 1983, where he currently serves as the Northern Great Plains Joint Venture Coordinator for Ducks Unlimited, working out of Billings. He held previous positions with Montana Fish, Wildlife and Parks (1983-1999), where he headed research projects on Canada Geese, elk and nongame birds; and with American Bird Conservancy (2000-2014), where he served as the Northern Rockies Bird Conservation Region Coordinator.

Dan is the past Chair of the Montana and Western Working Groups of Partners in Flight (PIF), and currently serves on the PIF National Steering Committee. He was the primary author of the 2000 Montana Bird Conservation Plan, a co-author of the Birds of Montana (2016), and former editor of the Audubon Christmas Bird Counts for Montana and Idaho. He has served on the Technical Committees of three different migratory bird habitat Joint Ventures, which focus on empowering partnerships to deliver strategic habitat conservation. He and his wife Susannah have homes in Billings and Somers (Flathead Valley), and have two fledged daughters, Lauren and Alice.

Maryanne Coughlin

Acton, Massachusetts
Education: B.A., Loyola University Maryland (History, Art History), M.A., University of Virginia (Modern European History), Stanford University (Stanford University Publishing Course)

A Boston-based Director at PwC, Maryanne leads Global and US Analyst Relations for Alliances and Managed Services and serves as Research Lead on PwC's Global AR team. In this role, she develops and expands relationships with leading business, technology and industry analysts worldwide and works with PwC leaders to provide the analyst community with differentiating insight into PwC's business.  

Maryanne has more than 20 years professional experience in client service, product management, market research, editing, communications, marketing and management, and as an independent consultant, writer and award-winning short film producer. She has served on local boards, volunteered extensively in her community and through PwC, and is a longtime member of Mass Audubon and The Trustees of Reservations. 

Maryanne's interest in wildlife and waterfowl started as a child growing up in Maryland near the Susquehanna River and Chesapeake Bay. She is committed to making nature and the outdoors more accessible to everyone and supporting the vitality and welfare of wild Trumpeter swans with the Trumpeter Swan Society. 

Laurel Degernes

Durham, North Carolina
Education: B.A., University of Minnesota, Morris (General Biology); B.S., University of Minnesota, St. Paul (Veterinary Science); DVM in Veterinary Medicine, University of Minnesota. Residency in Companion Avian Medicine, North Carolina State University College of Veterinary Medicine; Masters of Public Health with an emphasis on epidemiology at the University of North Carolina, Chapel Hill

As a staff veterinarian in the 1980s at the Raptor Center of the University of Minnesota, Laurie Degernes became involved in Trumpeter Swan health issues as Minnesota ramped up its swan restoration program in the mid-1980s. In the late 1980s, she treated over 70 lead poisoned swans from MN and WI and helped develop a new treatment protocol for removing lead shot from the gizzard ("gastric lavage"), a technique that is still widely used today for treating lead poisoned waterfowl and other birds. After moving to North Carolina in 1990 she joined the faculty at North Carolina State University and retired as Professor of Avian Medicine in 2016. Her Masters of Public Health paper was on the epidemiologic investigation of wild swan mortality in Washington State, supported in part by TTSS. In addition to teaching veterinary students, she published multiple manuscripts and spoke at many state, national, and international conferences. She is now Professor Emerita of Avian Medicine.

James Hawkings

Whitehorse, Yukon Territory, Canada
Education: B. S., University of Western Ontario, M.S., University of Alaska (Wildlife Management)

Jim first encountered Trumpeter Swans in Alaska while working on the Copper River Delta during the late 1970s. He took his interest in the species with him to Whitehorse after graduation, where he worked for 29 years as a biologist for the Canadian Wildlife Service. He has spearheaded that region's participation in the North American Trumpeter Swan Survey since 1995, and has also taken a special interest in swan migration areas in the southern Yukon. Jim's part of the continent is characterized by pristine wilderness and he is a strong advocate of Trumpeter Swans as a flagship species for healthy wetlands. He has been a member of TTSS since the early 80s.

Carrol Henderson

St. Paul, Minnesota
Education: B. S., Iowa State University (Zoology), Masters of Forest Resources, University of Georgia (Ecology)

Carrol Henderson was supervisor of the Minnesota Department of Natural Resources- Nongame Wildlife Program, a program he created, since 1977, until his retirement in 2018. During those 40 years he developed a statewide program for the conservation of nongame wildlife that has received both national and international recognition. He helped plan and carry out restoration of peregrine falcons, bald eagles, eastern bluebirds, river otters and trumpeter swans in Minnesota.

Carrol is the author or co-author of 13 books including Woodworking for Wildlife, Landscaping for Wildlife, Wild About Birds: the DNR Bird Feeding Guide, Birds in Flight: The Art and Science of How Birds Fly, Oology and Ralph's Talking Eggs, and the Field Guide to the Wildlife of Costa Rica. The Minnesota DNR Nongame Wildlife Program and the state nongame wildlife checkoff on state tax forms was organized to expand on Hennepin County's swan restoration program to restore Trumpeter Swans elsewhere in Minnesota in 1982.

Steven P. Quarles

Mt. Airy, Maryland
Education: B.A. Princeton University, J.D., Yale Law School

Steve Quarles is a partner in the Washington, D.C. office of the law firm Nossaman LLP. He is a veteran attorney who focuses his practice on addressing issues concerning federal wildlife laws (Endangered Species Act, Migratory Bird Treaty Act, and Bald and Golden Eagle Protection Act), federal lands and resources (including resource use, siting, and access law), and renewable energy. He represents a wide range of associations and companies, policy coalitions, state governments, local governments, land conservation trusts, and environmental organizations. He has served in high positions in the U.S. Department of the Interior and on the U.S. Senate Committee on Energy and Natural Resources. He is active as an officer and member of the Board of several non-profit organizations including the National Wildlife Refuge Association.

Kelly Schouten

Leawood, Kansas
Education: B.S. Iowa State University (Animal Ecology)

Kelly Schouten is a full time Educator at the Kansas City Zoo. In her position, she delivers educational programming and outreach to a wide variety of groups both on and off-site. This position allows her to use her skills communicating to a variety of audiences and spread important conservation messages. She has designed age-appropriate curriculums for school-age audiences for both classroom settings as well as for youth camps. These curriculums use a combination of presentations, written materials, and hands-on activities that help make complex topics accessible to all learners. She has also developed presentations that can be adapted to older audiences at community events, group functions and pop-up locations on and off zoo grounds. By far, she feels that the most exciting part of her job is getting to meet people in the community and help them to learn about the natural world, the creatures in it, and to gain a better understanding of the critical interrelation of all living things.

Trumpeter swan conservation became a passion project in 2019 when she attended the swan release in Iowa. Since then, she has worked on creating trumpeter swan and wetland educational content for the Trumpeter Swan Society and the Kansas City Zoo. She has been named the leader of the Kansas City Zoo's Trumpeter Swan Conservation Program and brings an educational perspective to the program.

Mark Vrtiska

Lincoln, Nebraska
Education: B.S., University of Nebraska-Lincoln (Agriculture; Natural Resources with Wildlife Management Option), M.S., Eastern Kentucky University (Biology); Ph.D., Mississippi State University (Forest Resources, Wildlife Ecology)

Mark Vrtiska was the Waterfowl Program Manager for the Nebraska Game and Parks Commission. He has designed, directed, reviewed, conducted and coordinated field research, population and human dimension surveys, and conservation plans pertaining to waterfowl, including Trumpeter Swans, and other migratory birds. Mark served as the agency's representative on the Central Flyway Waterfowl Technical Committee, serving as the Committee's representative on the Human Dimensions Working Group and North American Waterfowl Management Plan Revision. As an Instructor at the University of Nebraska-Lincoln he taught upper-level, graduate/undergraduate course in waterfowl ecology and management. He has conducted research and monitoring on the High Plains Flock of Trumpeter Swans.

Gary Ivey, Past President

Bend, Oregon
Education: B.S., Humboldt State University (Wildlife Management); M.S., and Ph.D., Oregon State University (Wildlife Science)

Gary Ivey began working with Trumpeter Swans in 1980 when he initiated a neck-collar/migration study at Oregon's Malheur National Wildlife Refuge and has continued his work to restore the Oregon Trumpeter flock in partnership with local agencies. He worked as a wildlife biologist for 18 years with the U.S. Fish and Wildlife Service at several western refuges, serving 15 years at Malheur NWR. Gary is currently employed as a Research Associate with the International Crane Foundation with a focus on conservation of Sandhill Crane populations and their habitats in the western U.S.
STAFF
Margaret Smith, Executive Director

River Falls, Wisconsin
Education: B.S. (Biology) Calvin College, MBA, University of Michigan.

Margaret worked for the Kinnickinnic River Land Trust, working in land conservation and leading the KRLT's national accreditation application to become the first Wisconsin land trust to be nationally accredited. She served as Executive Director at the Great River Road Visitor and Learning Center in Prescott, Wisconsin, one of more than 60 Interpretive Centers on the Great River Road, a Watchable Wildlife Site and a Great River Road Audubon Birding Trail site. She has served on the board of tourism and chamber of commerce organizations and the St Croix National Heritage Area Task Force. She has been a certified Wisconsin Master Gardener since 1997. She is a Certified St. Croix Master Watershed Steward. She received the Wisconsin Department of Natural Resources 2020 Invasive Crusader Award.

Rebecca Conser, Administrative Assistant

Buffalo, Minnesota
Education: B.A. (Environmental Studies), B.A. (Outdoor Education) Northland College

Becca Conser is a lifelong birder and is especially interested in waterfowl, thanks to her grandfather. She is also a Volunteer Coordinator at Three Rivers Park District and has been the owner of a fiber arts business for a decade.
ASSOCIATES
John Cornely, Senior Conservation Advisor

Littleton, Colorado
Education: B.A., Hastings College; M.S., Texas Tech University; Ph.D., Northern Arizona University

After military service and graduate school, John worked for the U.S. Fish and Wildlife Service (FWS) as a Refuge Biologist at Malheur NWR and Western Oregon Refuges. He was the FWS Regional Migratory Bird Program Chief for 20 years. He became the 2nd Executive Director of TTSS in 2007 and assumed his current role in 2014. John has over 45 years' experience in Trumpeter Swan ecology and management. He has served on the Boards of Directors for TTSS and the National Wildlife Refuge Association.

Conservation Flyway Advisors

Bob Blohm

Bowie, Maryland
Education: B.S., Michigan State, M.S., Ph.D., University of Wisconsin (Wildlife Biology)

Following military service, Bob Blohm's graduate work included studying the breeding ecology of the Gadwall in southern Manitoba. In 1979, he was hired by the U.S. Fish and Wildlife Service, Office of Migratory Bird Management. He remained in the Office (now Division) of Migratory Bird Management for his entire career, becoming Chief of the Division in 2007. Retired since 2011, Bob continues to enjoy a wide variety of outdoor pursuits.

Jerry Serie

Easton, Maryland
Education: B.S., St. Cloud State University (Biology); M.S., North Dakota State University (Zoology)

Jerry Serie retired from the U.S. Fish and Wildlife Service in 2007 as a Wildlife Biologist with 35 years of experience working on migratory birds. He started in research studying the breeding biology and migration ecology of canvasbacks in 1971 with the Northern Prairie Wildlife Research Center, Jamestown, ND. In 1984, he moved to the east coast as the Atlantic Flyway Representative for the Division of Migratory Bird Management where he advised migratory bird management and research to the 17 States and 6 Canadian Provinces making up the Atlantic Flyway Council.
Please contact Board of Directors and Staff through our main office on the Contact Us page.