Photograph by Hadassah Zohara
TTSS Blog 2020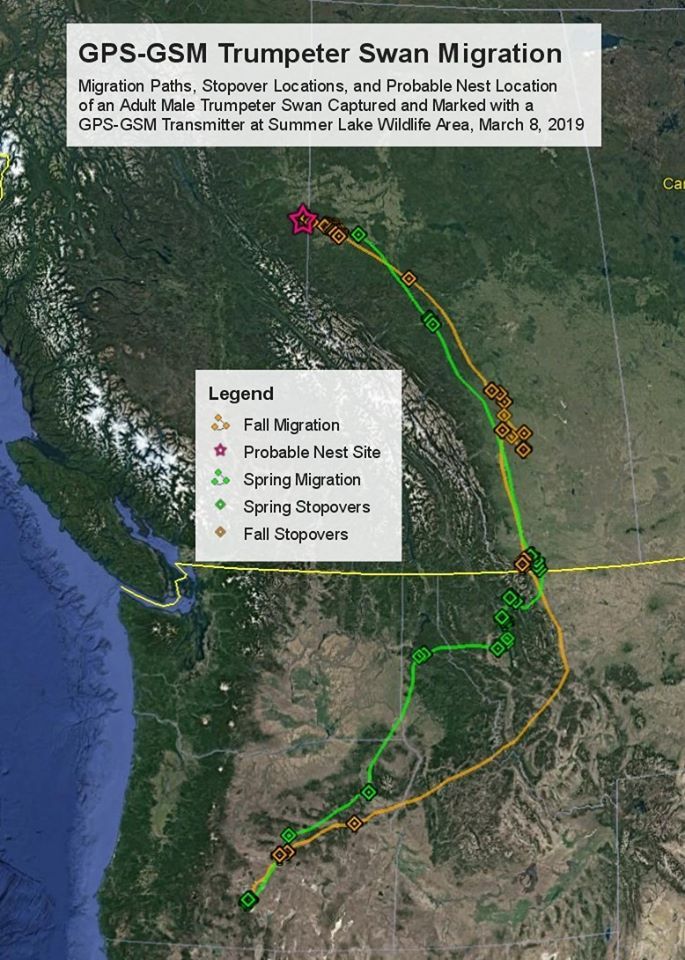 OREGON: Update from our Oregon Restoration Program (from Oregon Department of Fish and Wildlife Facebook page)
Can you believe this trumpeter swan stayed airborne for 12 hours while flying from southern Alberta to a small reservoir near Unity, Oregon? With a six-and-a-half foot wingspan, trumpeter swans travel great distances to breed.
We captured and GPS-collared the male swan at Summer Lake Wildlife Area nearly a year ago. On March 11, he left for summer breeding grounds, spending over five months near a pond in the Peace River Region of British Columbia. This area is one of the core breeding areas for the Rocky Mountain population of trumpeter swans. On September 21, he moved east to the vicinity of Grande Prairie, Alberta, staging for a month before migrating back to the wildlife area.
Based on its daily movements during the summer, biologists believe the swan and his mate nested hatched a brood. Unfortunately, if that was the case, the cygnets didn't survive as we have only spotted the male and his mate at the wildlife area. Low survival of cygnets – young swans – is typical of this bird, an Oregon Conservation Strategy Species.
We continue to monitor this swan's movements and will conduct our winter trumpeter swan survey soon. We also hope to capture and GPS collar four more trumpeter swans this winter at the wildlife area. ODFW works with The Trumpeter Swan Society and others to restore trumpeter swans to their native range in Oregon.
IOWA: "Wintering populations of Trumpeter Swans are increasing annually all across Iowa thanks to restoration efforts of the species by wildlife management personnel across the continent."
"Throughout this fall and up until recently as many as 20 Trumpeter Swans have been residing at Sand Lake. While they spend much of the day at the lake, the birds will fly to picked corn fields to feed during the mornings and evenings. Although very cold weather tolerant, this latest bout of cold and snowy weather will determine if they migrate to points further south." Read more...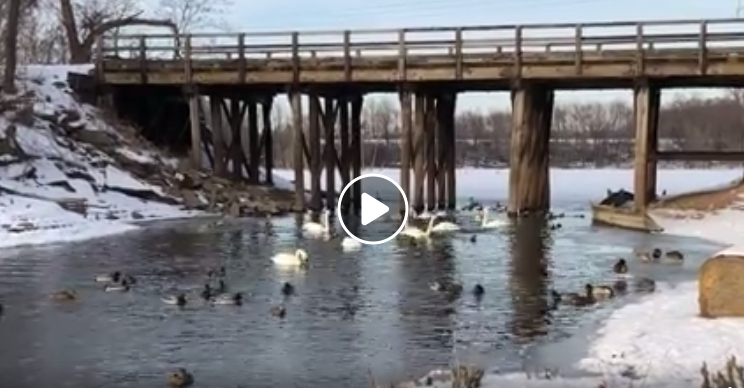 VIDEO: Trumpeter Swans are largely vegetarians, feeding on aquatic plants, roots and tubers, and some small invertebrates as well. But do they eat fish? Not very easily and not very often. Learn more...