Photograph by Hadassah Zohara
2018 TTSS Blog
2018 The Trumpeter Swan Society Blog
My Swan Story - by Cathy Kerr
ONTARIO.
I had never seen a swan of any description until twenty years ago. I knew swans lived somewhere but not in my community.
In 1999 our local wildlife area had received a lot of printed media coverage about a pair of trumpeter swans being brought to the pond in hopes of increasing the population. I passed the road that leads to the wildlife area everyday but never went in to explore. One day I decided to check it out and drove in. Parking lot was empty, no one around. Rolled my window down and heard for the first time the bugle of the swans. I went back the next day and came across the swan keeper and he showed me around the enclosure and I got a close up look. I swallowed the hook. The pristine beauty and sheer size was unforgettable. I wanted to help.
Years went by and life got in the way of me spending any time at the pond but now that I have retired I go back frequently to visit an old swan friend we call Mac. There is more to Mac's story but I'll make it short. Mac is a twenty year old cob (male) and was located to this pond along with 10 other cygnets in 2000. Harry Lumsden, aka Father Swan, founder of the Ontario Trumpeter Swan restoration project, knew in his experience this pond was an ideal location for these young swans. Mac II became the dominant cob and still resides there today. This year he and his pen have 3 surviving offspring. When I see transient swans gathering on the ice I know that they are the direct result of Harry Lumsden breathing life into the restoration of these magnificent waterfowl. I often think about how close a call it was to losing these special birds. All volunteers and organizations involved with this success story should be very proud to say they had a part in it even if in only one small way. Fly high and live long my friends.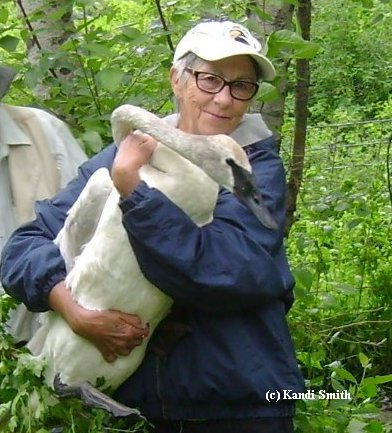 My Swan Story- by Kandi S.
MONTANA.
Over the past couple years, my husband and I have had the opportunity and pleasure to participate in the pre-release and banding of cygnets as part of the Flathead restoration project. The boots on the ground team included breeder John Jarvis, tribal biologist Dale Becker, a veterinarian and volunteers on the Salish Kootenai Reservation.
To facilitate the capture of these penned cygnets, the team had to physically catch and secure these majestic birds for testing and banding. As the birds began to run and flail, I could totally see quite a rodeo coming.
To my surprise, as each was secured in the arms of a volunteer, the birds quieted, accepting the needles, handling and placement of the big red numbered collars calmly.
What sticks in my mind is the endearing way in which many of the birds drooped their long necks and heads around their captors' necks, exhibiting such a gentle, trusting nature. This is where they HAD me!
Smoothly and orderly, the ordeal was over and the youngsters were carefully carried to a trailer for transport to a local reservoir. Upon the arrival and doors swinging open, twelve boisterous cygnets exited for their first taste of freedom and real use of their gigantic wings. They briskly marched to the pond, chattering all the way, and eventually bobbed off into the distance. Waiting anxiously on the shore like nervous parents, the surrogate team gave a hoot and a holler in response. It had been a successful and safe release into the wild and was a very good day for man and bird.
As an added bonus for us, some of the birds return to a fishing access near the place we walk the dog many mornings. From afar, we can check their numbered collars. Occasionally we get to say hello again to one of those fabulous birds we got up close and personal with one summer day in Montana.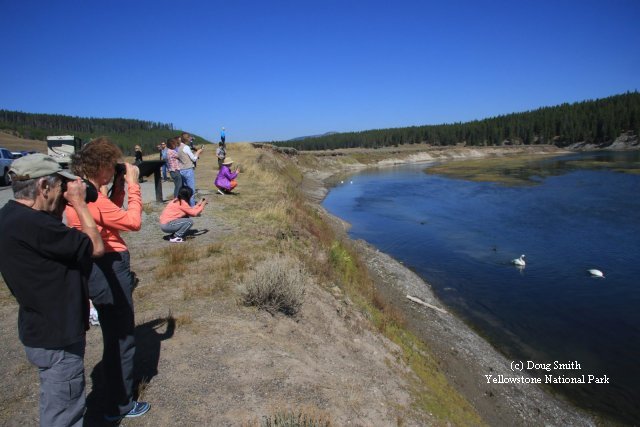 The Trumpeter Swan Society is partnering with Yellowstone National Park to determine the causes of swan decline in the park. In Yellowstone National Park, the nearby Red Rock Lakes National Wildlife Refuge and surrounding region, about 70 birds remained. Now in a twist of ecological fate, what was once one of the last reservoirs of trumpeter swans in the lower 48 may blink out. Learn more...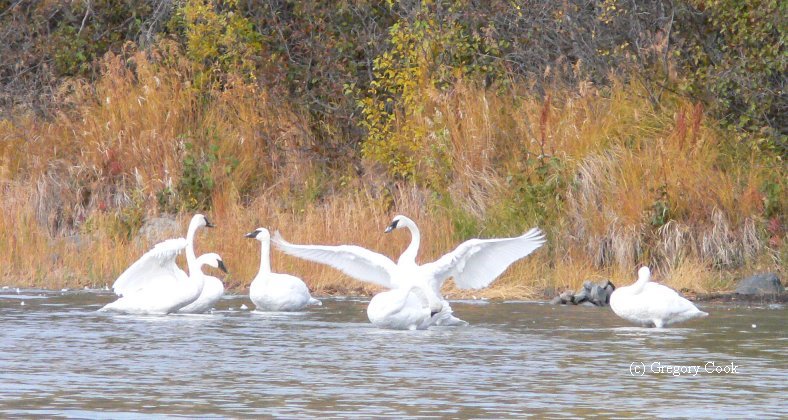 My Swan Story - by Gregory Cook
YUKON. We just returned late last night from a week in Yukon. The fall colors were extraordinary but so was the trumpeter swan viewing on Dezadeash Lake. 6 pairs, sometimes together and sometimes separated. Preening, feeding, resting, paddling around, paddling madly to get in full take-off mode before flying, speaking softly and trumpeting loudly--a fine panoply of behaviors and sounds played out against an overwhelmingly spectacular backdrop of color and Yukon mountains.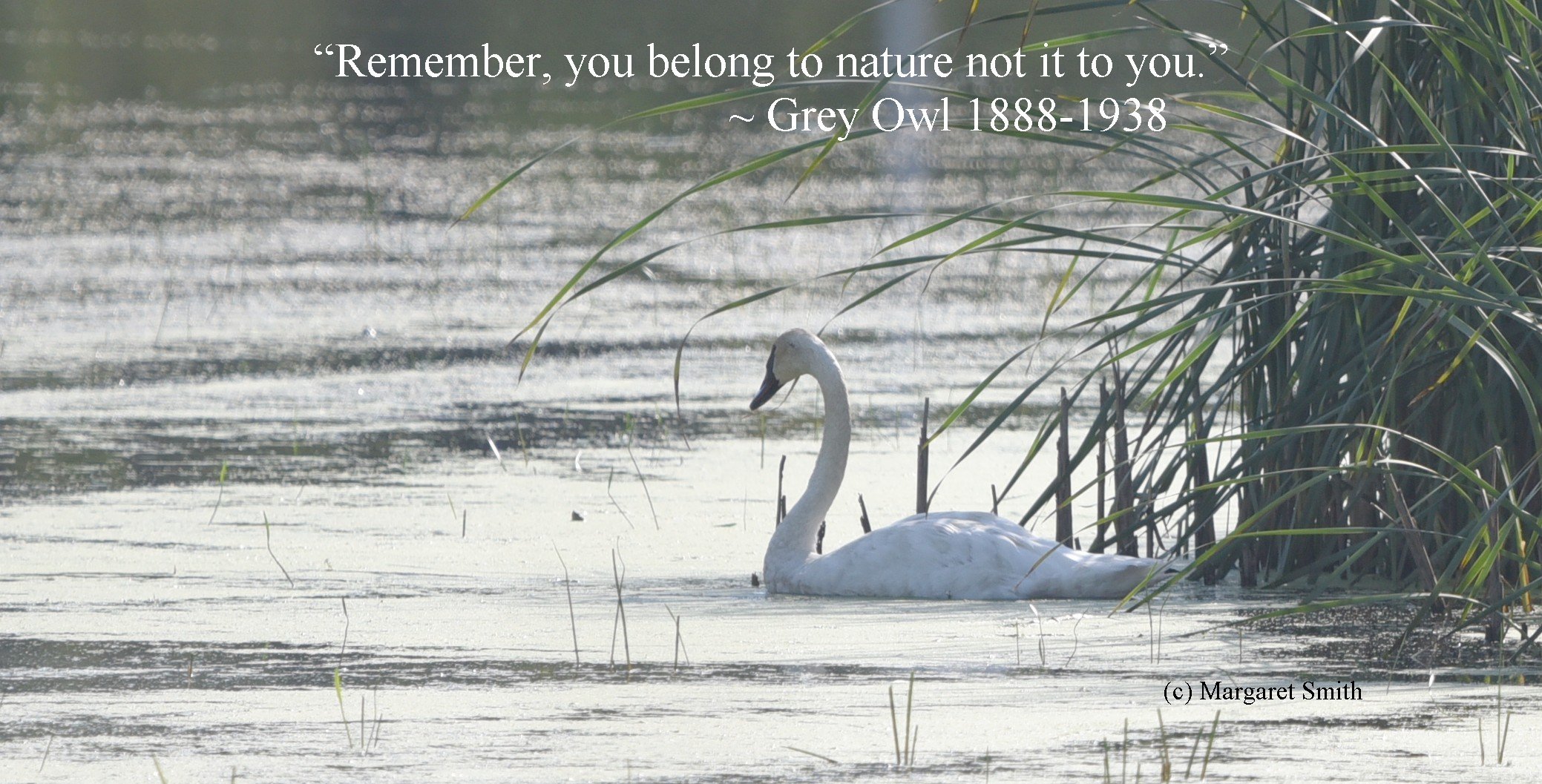 Words we like: Gray Owl's timeless wisdom
"Remember, you belong to nature not it to you." ~ Grey Owl 1888-1938
Photo (c) 2018 Margaret Smith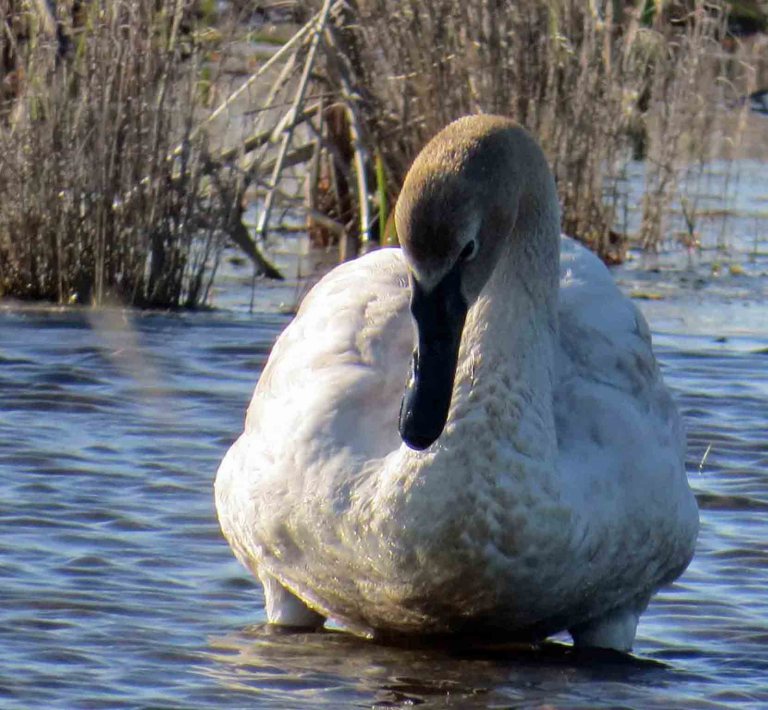 The first sighting of a Trumpeter Swan at North Carolina's Outer Banks made birders very excited. The Trumpeter Swan cygnet came in during a nor'easter and was separated from its family. Read about this special cygnet and its impact on the local community. "Ocracoke's Trumpeter Swan may be gone but won't be forgotten" by Peter Vankevich. Read more...

Read about changes to the Migratory Bird Treaty Act that are weakening bird protections, including those for Trumpeter Swans.
The Migratory Bird Treaty Act (MBTA), signed into law in 1918, is among the oldest and most effective wildlife protection laws on the books. When Congress passed the MBTA in 1918, it codified a treaty already signed with Canada, then part of Great Britain. The Treaty was in response to the serious overharvest of numerous bird species that had resulted in extinction in a few instances and near extinction in some species. Since 1918, the MBTA has broadened its international scope through treaties with Mexico, Japan, and Russia. The MBTA is credited with saving numerous species from extinction, including Trumpeter Swans.
It continues to protect nearly all native birds in the U.S. covering more than 1,000 species, including Trumpeter Swans.
Read more and learn what you can do.
Cygnets from TTSS's partnership with the Oregon Department of fish and Wildlife and the United States Fish and Wildlife Service are released at Summer Lake, Oregon. The cygnet's father was shot on Thanksgiving Day, 2017 while on a river in Sunriver, Oregon.