Photograph by Danny J. Brown
Programs and Presentations of the 25th Swan Conference
Who should attend?
Whether you are a wildlife professional or someone who loves Trumpeter Swans, the mighty Mississippi and Missouri rivers and nature-rich wetlands, this conference is for you!
We invite you to come and discover how the power of stories can help connect others more deeply to nature. Learn how different swan restoration programs are using trumpeter swans to engage and inspire people of all ages to understand the importance of protecting wetland habitat. Discover how your local zoo can be a powerful advocate for habitat protection. The Conference is also for people who want to learn more about swan health issues and how to recognize when swans are sick.
If you're interested in getting the most up-to-date information and research about trumpeter swans in your part of the country, this is the place to learn more. From the decline of swans at Yellowstone National Park, to learning about Audubon's Climate Change 2.0 Project, to a new multi-state GSM tracking project of swans, you will hear from front-line swan managers and university student researchers.
Enjoy a fun-filled and fascinating exploration of nearby national wildlife refuges and conservation areas along the Mississippi River's Great River Road. Experience the thrill of viewing trumpeter swans coming in to roost at sunset at the Audubon Center at Riverlands.
The 25th Swan Conference has all this and more for you!
Discover...Learn...Experience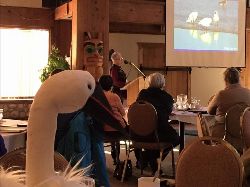 Where: Best Western Premier Alton-St. Louis Area Hotel, 3559 College Avenue| Alton | IL | 62002, 618.462.1220|
Tuesday (Registration 8:00 a.m., Presentations 8:30 am- 5:15pm) : Learn how the Riverlands area at the confluence of the Mississippi and Missouri rivers has grown to become one of the most important Midwest swan wintering areas. Find out how volunteers are tracking swans at Riverlands and helping us learn more about Missouri and Illinois wintering swans. Did you know your personal swan stories are important? Discover the power of storytelling as your way to get others to care about nature and conservation. Listen to the stories and lessons of how trumpeter swans are helping connect people to nature and to the importance of wetland habitat for wildlife and human health and safety. Discover the effectiveness of conservation partners like zoos to promote conservation actions. Learn about health issues swans face and what it takes to treat them.  Hear about a new grassroots movement to engage your local hunting communities to voluntarily switch to nontoxic ammunition.
You will learn about Red Rock Lakes National Wildlife Refuge and its pivotal role in the come-back of the Trumpeter Swan. Discover the larger role of National Wildlife Refuges providing habitat throughout the year to these magnificent birds. These public lands are wildlife gems in rural areas and near urban centers. You may discover your next vacation destination!
Thursday (8:30 am-5:15 pm): Get up to speed on the latest swan updates and issues across North America. Learn about the latest swan research projects in the west and Midwest, including Yellowstone National Park and a new a multi-state GSM collar tracking project in the Midwest. All that and more. 
Presentation day schedule (Tuesday and Thursday)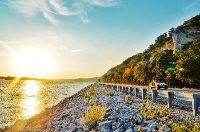 On Wednesday, be part of a fun and educational all-day Field Trip exploring three National Wildlife Refuges (Two Rivers National Wildlife Refuge, Great River National Wildlife Refuge and Clarence Canon National Wildlife Refuge), sanctuaries and conservation areas, traveling the Great River Road along the Mississippi River. The Field Trip ends at Riverlands Audubon Center with the sunset view of trumpeter swans coming in to roost for the evening (complete with complimentary hors d'oeuvres and beverages provided by our Riverlands host!). The bus departs the Best Western Hotel promptly at 8:00 a.m. and returns by 6:00 p.m.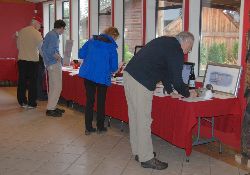 The conference wraps up with a Thursday evening Gala banquet (6:00-10:00 pm) event with live music, a keynote presentation by famed local photographer Danny J. Brown, and a delicious buffet dinner, complete with an amazing silent auction including hard-to-find trumpeter swan items. You will have a great experience for a great cause. All proceeds support our programs across North America to assure the vitality and welfare of wild trumpeter swans.
For Program Presenters
If you are a program presenter, please submit your Abstract by October 20, 2019.  Conference attendees will receive a copy of your abstract in their program handout.