Photograph by Danny J. Brown
Travel and Accommodations
The 25th Swan Conference will be held in Alton, Illinois. The presentations and banquet will be held in the Best Western Premier Alton – St. Louis Area Hotel.
Where to Stay
About the Best Western Premier Alton: The Best Western Premier is the only full-service hotel in Alton which can accommodate business travelers, leisure travelers, business meetings, banquets, conferences, social events and more. Located just 25 minutes from downtown St. Louis and Lambert International Airport, Alton is full of history and local attractions. Alton is covered by the Great Rivers & Routes Tourism Bureau – celebrating the only place in America where Route 66 meets the Great River Road.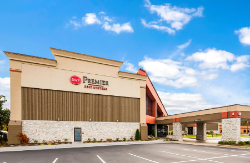 Reserve your room early! After October 19th 2019, room availability and rates may change.
Make your reservation:
Best Western Premier Alton-St. Louis Area Hotel
3559 College Avenue| Alton | IL | 62002
618.462.1220| bwpremieralton.com
Make a reservation by calling the hotel direct at 618-462-1220 and refer to the Trumpeter Swan Society Conference or Click here to book online.
Note: There is no shuttle service to/from the hotel and airport. Other options in Travel/Getting Here section below.
Learn more
Room rates and amenities

Room rates and amenities

Room rate:  $109 plus tax per room per night, double occupancy.
The rate includes a full hot/cold breakfast buffet in the morning for up to 2 people per room.  Children 12 and under dine free as registered guests when accompanied by an adult registered guest.  Gratuity is not included and is the responsibility of each individual.  Breakfast is served Mon-Fri 6 a.m. - 9 a.m.; Saturday 6 a.m. - 11 a.m. and Sunday 7 a.m. - 11 a.m.

We encourage you to book no later than October 19, 2019 in order to guarantee availability and the group rate. Refer to Trumpeter Swan Society Conference to receive rate.

In addition this rate includes amenities such as free parking; free WIFI throughout hotel; complimentary guest laundry onsite and more.  Visit our onsite restaurant. greatriverstapandgrill.com

Please note the cancellation policy for reservations in this block is 48 hours prior to arrival. Failure to cancel will result in first night's stay charges.  

No refunds will be given for early departures.

Interested in more about Alton, Illinois?

Interested in more about Alton, Illinois?

Please visit www.visitalton.com to view maps, local events, and much more!  Did you know that the Guinness Book of World Records "World's Tallest Man", Robert Wadlow statue is just one block from our hotel?  Ask a hotel front desk agent to direct you. 

Find more hotel information online at www.bwpremieralton.com and for our onsite restaurant, Great Rivers Tap & Grill at www.greatriverstapandgrill.com 
What to see and do in the Great Rivers & Routes region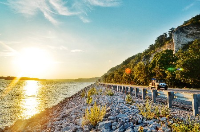 Come early and explore the region's many historic attractions including the Lewis & Clark State Historic Site and Confluence Tower, the National Great Rivers Museum and Melvin Price Locks & Dam, Cahokia Mounds State Historic Site, Lincoln-Douglas Square, and World's Tallest Man statue.
Travel the Meeting of the Great Rivers National Scenic Byway for gorgeous views of the Mississippi River beneath towering floors. Explore the quaint town of Elsah, the village that time forgot. Soar above the bluffs on the new Sky Tour Aerial Lift to the Winery at Aerie's Resort for stunning views of the confluence of the Illinois and Mississippi river. Step back in time as you journey along Route 66 to visit the Chain of Rocks Bridge, World's Largest Catsup Bottle, Pink Elephant Antique Mall, Doc's Soda Fountain and many more roadside attractions. 
Explore the activities that are going on, in and near Alton, Illinois

See, Do, Dine, Explore at the Meeting of the Great River Road National Scenic Byway

"Hit the open road of the Meeting of the Great Rivers Scenic Byway around Alton.  Escape in time to be part of history as  you embark on the journey westward with Lewis and Clark. Shop Alton's "Antique Row" and the surrounding communities for one-of-a-kind finds."

"Concerts at Riverfront Amphitheater, Riverside Flea Markets and Alton Little Theater plays." Check the calendar to see what is happening in November.

Information on website: Discover, Dine, Events and Maps.

Photo courtesy of visitalton.com
Weather
In November, the average high in Alton is 58 F, the average low is 40 F.  The average precipitation for the month is 3.1 in.  It is recommended to bring your winter coat and gear.
Travel/ Getting Here
By Air:
Alton is a short drive from St.Louis Lambert International Airport (STL) (40 minutes). St. Louis Lambert International Airport is served by several major airlines including Air Canada, Alaska Airlines, American Airlines, Cape Air, Delta, Frontier, Southwest, and United.
It is also served by six car rental agencies – Alamo, Avis, Budget, Enterprise, Hertz, National, and Thrifty. 
The airport is served by two taxi companies – Airport On-Call Taxicabs and Metro West Transport.  The taxi zone in Terminal 1 is located outside of Exit Door 14 to Garage Yellow Level. The taxi zone in Terminal 2 is located outside of Exit Door 12.
Ride App companies Lyft and Uber also operate at St. Louis Lambert International Airport. Reservations must be made online.
The Bus Port at St. Louis Lambert International Airport is the pickup location for local MetroBus and Greyhound Bus Service. It is located just south of Terminal 1 on Lambert International Airport. There is a terminal shuttle to the bus port.
MetroBus maps and routes: http://www.metrostlouis.org/route/49-north-lindbergh/
Greyhound Travel info: http://www.greyhound.com 
By Car:
Alton is accessible by car by Highway 143, Highway 3, and Highway 111.