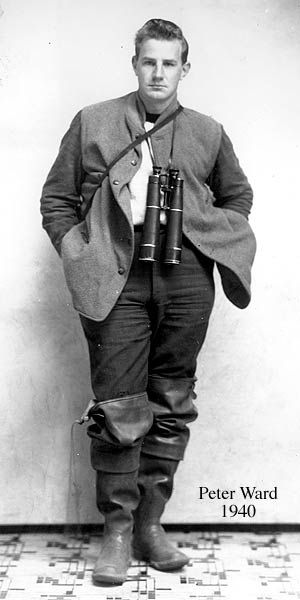 Remembering a Founding Father of The Trumpeter Swan Society, Peter Ward
Peter Ward at the Delta Waterfowl Research Station (photo)
Peter Ward was one of the founding fathers of The Trumpeter Swan Society in 1968. He died suddenly on March 24 at the age of 92 in his home in Portagela Prairie, Manitoba. Up until last May, Peter had been an integral part of the Delta Marsh for decades – "Delta Waterfowl's 'legend-in-residence.'" The following is from Delta Waterfowl's Web site:
"Peter first went to Delta Marsh in 1926 as the six-year-old son of gamekeeper Edward Ward. After serving as a bomber pilot and flight instructor with the Royal Canadian Air Force in World War II, Peter attended art school; then returned to the Delta Duck Station where he handled a variety of duties over the next 60 years. Despite having no formal training, he worked side-by-side with Albert Hochbaum, Lyle Sowls, Art Hawkins and other notable researchers on numerous ground-breaking advances in waterfowl science. Peter managed Delta's hatchery facilities and played a key role in establishing the early breeding population and habitat surveys."
In the late 1960s, Fred King, Chairman of the Hennepin County Park Reserve District, was keen on restoring Trumpeter Swans to Minnesota, in particular to the Park Reserve District west of Minneapolis. Through his friendship with Ford and Charlie Bell of Minneapolis, Fred met Albert Hochbaum and Peter Ward of the Delta Waterfowl Research Station just north of Portagela Prairie. Fred wanted Al's and Peter's good counsel on Trumpeters, since they had experience in raising these birds in captivity.
As Dave Weaver wrote in A History of The Trumpeter Swan Society in 2008, Fred King attributed the suggestion for a Trumpeter Swan Society to Al Hochbaum. The idea received an enthusiastic response from Fred, Peter Ward, and the other founders who had met in September 1968 to discuss the Hennepin Parks swan restoration project.
Peter Ward was always very generous with his knowledge about Trumpeters and was important in the initial efforts of Trumpeter restoration in Hennepin Parks. When Dave Weaver spoke with him in 2008 while researching his TTSS history paper, Peter assured Dave that every Trumpeter "start up" flock had the Delta bloodline. This was prior to using Red Rock Lakes NWR and Alaska as sources of eggs and cygnets.
With Peter hosting, the 4th Trumpeter Swan Society Conference was held in 1974 at the Delta Waterfowl Research Station, now known as Delta Waterfowl and Wetlands Research Station. A subsequent meeting of the Society's Board of Directors was held there a year or two later.
Peter's obituary, written by one of his children, speaks of his love of the natural world around him, especially the marsh: "He lived the rest of his life surrounded by the marsh, and his life's work of paintings attest to how much he loved, understood and appreciated this life. His contributions to the world of wildlife, waterfowl, and art will not be forgotten."
"I have no quarrel with the life I've led, longer and freer than most. A better person I might have been, if a roadmap for such existed."
– An excerpt from the Memoirs of Peter Ward, unpublished.