Photograph by Margaret Smith
2010 TTSS News Archive
News Highlights from 2010
ANNOUNCING: THE TRUMPETER SWAN SOCIETY 22ND CONFERENCE CALL FOR PAPERS
The 22nd Biennial Conference of The Trumpeter Swan Society (TTSS) will be held at the Polson, Montana, United States, on October 11-14, 2011. The biennial conferences of TTSS provide the only public forum in North America that brings together private citizens and conservation groups, policy makers, swan managers, and researchers to examine the status and needs of Trumpeter Swans in the U.S. and Canada and to work together to make all populations secure. Read more...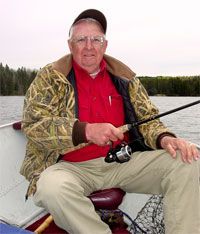 HARVEY NELSON, A CONSERVATION GIANT AND BOARD MEMBER OF TTSS, WILL BE DEEPLY MISSED
Harvey Nelson, a leader of North American wetland and waterfowl conservation and Board Member of TTSS since 1992, died unexpectedly of heart failure on February 20, 2010 at the age of 85. Harvey remained extremely active in conservation efforts to the very end and will be deeply missed. Harvey was a very accomplished leader, wonderful friend, and worked tirelessly to conserve our natural resources. His many tributes are so very well deserved. He was an inspiration to us all.
An astonishing bird day February 10, 2010, began when I went with Doug James to Holla Bend NWR for the release of Iowa-reared Trumpeter Swans. Karen Rowe of Arkansas Game & Fish has been working with Iowa Department of Natural Resources to move Trumpeters to Arkansas. Read more...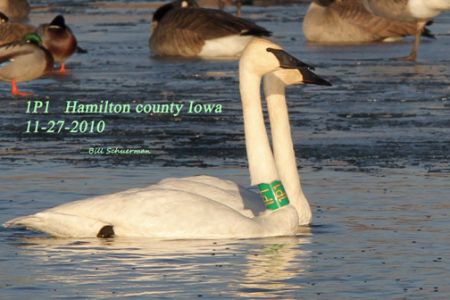 TTSS Board Member Ron Andrews led a parade of Trumpeter fans to the release site on Holla Bend National Wildlife Refuge on Friday, February 10th. This was the third year of scheduled releases in Arkansas that are part of an innovative reverse migration experiment. The released cygnets came from the highly successful Iowa Department of Natural Resources' Trumpeter Swan Restoration Program, coordinated by Andrews. Karen Rowe of the Arkansas Game and Fish Commission was on hand to help, along with 16 lucky citizens entrusted to handle and release the birds. The release has brought a lot of positive press for Trumpeter Swans. Read more...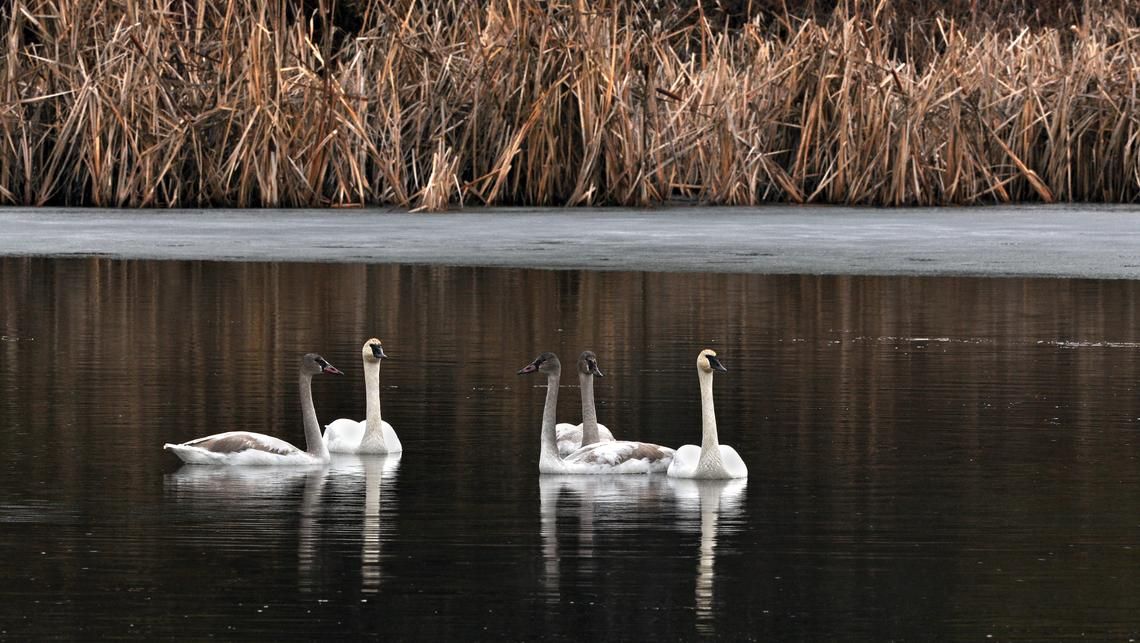 Solo, the trumpeter swan who's been returning to Turnbull National Wildlife Refuge for at least three and possibly four decades, arrived at Winslow Pool on Jan. 25, 2010, as soon as enough open water was free of ice for him to come back. This time he returned with the mate he found in 2009 and three of the four cygnets they produced that spring. Refuge biologists do not know where the swans spent the ice-up portion of the winter. (Rich Landers / The Spokesman-Review). Read more...
We are receiving very interesting reports of Trumpeter Swans with neck collars and wing tags this winter as part of our Citizen Science effort, Trumpeter Watch. Reports of all Trumpeter Swans in states near or south of the 40th parallel will help us better understand the winter distribution of expanding High Plains and Midwest nesting flocks. The program will run through May 1 each year. We will then tally all data gathered and make it available to wildlife managers throughout the pertinent flyways and on our website.
Read more...