Photograph by Margaret Smith
2009 TTSS News Archive
News Highlights from 2009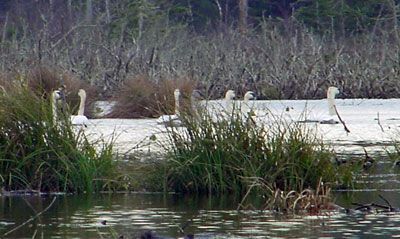 ines Marsh, Long Beach Peninsula, WA
Partnerships have been the foundation for conservation of Hines Marsh, on Washington's Long Beach Peninsula. Since the mid-1980s, one of TTSS's priorities has been to ensure the long term protection of two dune restorations that are vital to the restoration and healthy function of Hines Marsh. Our strong partner in Hines Marsh conservation has been, and continues to be Columbia Land Trust (CLT), a leader in the business of long-term land conservation. It is with confidence that TTSS transferred ownership of our long held dune restoration properties to CLT in 2009. Read more...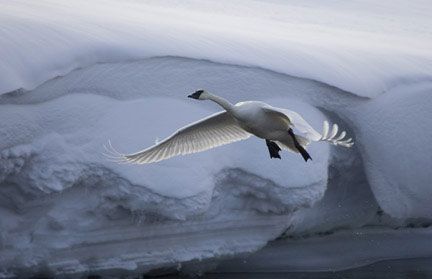 Jess Lee, wildlife photographer, has made one of his finest shots available to TTSS as a LIMITED EDITION PRINT. There will be 300 signed and numbered copies for us to offer to members and fans. Read more...
A pair of Trumpeter Swans nested and hatched 6 cygnets on a restored wetland on an Iowa State University experimental agronomy farm, "trumpeting" the successful partnership of agricultural interests and wetland conservation, while the farm raised record amounts of corn and beans. Read more
LINDBERGH FOUNDATION AWARD RECOGNIZES WORK WITH TRUMPETER SWANS
LINDBERGH FOUNDATION AWARD RECOGNIZES WORK WITH TRUMPETER SWANS
(adapted from Trumpetings, July 2009)
Work with Trumpeter Swans inspired pilots Terry and Mary Kohler who recently received awards at a gala event at the EAA AirVenture Museum in Oshkosh, WI. The Lindbergh Foundation recognized them saying "Terry and Mary Kohler's use of their aircraft to reintroduce swan and crane eggs in the United States is an excellent example of the Lindbergh Foundation's concept of balancing technology and nature". In 1989, The Kohlers responded to a request from the State of Alaska to help with a project involving the Wisconsin Department of Natural Resources and the USFWS. The Kohlers provided essential aircraft to bring Trumpeter Swan eggs collected from wild nests in Alaska to incubation and rearing facilities in Wisconsin. From a start with Trumpeters, the Kohlers went on to help with Whooping Cranes, Siberian Cranes, Humbolt Penguins, Piping Plovers and other species. Thanks Terry and Mary for your wonderful work!
MISSOURI HUNTERS LOSE HUNTING PRIVILEGES FOR SHOOTING TRUMPETERS
(adapted from Trumpetings, July 2009)
Last year 7 hunters were arrested in Missouri for killing Trumpeter Swans. Five of those cases have been resolved and the other two are still pending. Due to a recommendation from a staff biologist of the Missouri Department of Conservation, each of the five hunters was required to pay $750.00 restitution to TTSS, so that their fines would benefit Trumpeter Swan conservation. In addition, each had hunting privileges suspended for one year. TTSS is not against hunting. Hunters and anglers started the conservation movement in the US before the Civil War and continue to contribute a great deal to natural resource conservation today. However, sportsmen and sportswomen should be experts at identifying the game birds they hunt.
After a near-decade hiatus, TTSS is pleased to announce that Trumpeter Swan releases have resumed in Oregon, as part of Oregon's Trumpeter Swan Restoration Project. We are most grateful to the Felburn Foundation for their generous support of this project. TTSS, in partnership with Oregon Dept. of Fish and Wildlife, Malheur NWR, the Wyoming Wetland Society and others, hopes the number of nesting Trumpeters will increase in wetlands east of the Cascade Mountains of Oregon and Washington. Read more...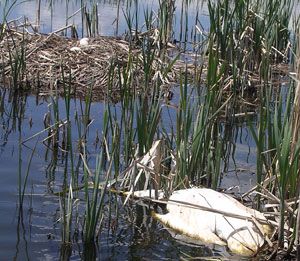 During an aerial survey of swan nests in eastern Idaho on May 29, TTSS observer Ruth Shea discovered a tragic scene on Hossner Pond, 1 mile west of Ashton, Idaho. Three eggs lay abandoned in the exposed nest cup, while the body of an adult swan lay sprawled in the water near the nest. Idaho Department of Fish and Game (IDFG) officers later retrieved the dead swan and collected forensic evidence. Although the killing apparently occurred earlier in May while the female was still laying eggs, evidence was sufficient to prove it had been shot. Read more...
TTSS is launching a 5-yr Greater Yellowstone Trumpeter Swan Initiative (GYTSI) to increase nesting success and adult numbers and help achieve the federal and state objectives for these vulnerable swans. GYTSI will provide a means to merge TTSS swan expertise and public energy and resources with agency efforts to make this population secure. Read more...
Read a recent article detailing the history of Trumpeter Swan restoration in Ontario and the people who have made it happen! The article contains a great account of the program, but please realize the close-up photos are primarily of Mute Swans (orange knobbed bill), not Trumpeter Swans. Both species occur in that area. Check our Swan Identification page to learn about the differences.
February 17, 2009: release of more swans in Arkansas to encourage migration - Fifteen more Trumpeter Swans from Iowa were released the week of February 16th at Holla Bend National Wildlife Refuge and Boxley Valley Mill Pond in Newton County, Arkansas. The hope is that these swans will fly north in the spring and develop a wintering tradition in Arkansas. Please report any banded swans that you observe. Read more...
TRUMPETER SWANS ARE dying in Washington State and British Columbia
Over the past 10 winters, an average of 300 swans annually have died in this region from lead poisoning. Learn more about this very serious crisis with the lead poisoning information sheet about the most recent winter swan mortality in northwestern Washington and southwestern British Columbia. This is a progress report prepared by Environment Canada's Canadian Wildlife Service, the Washington Department of Fish and Wildlife, the U.S. Fish and Wildlife Service, The Trumpeter Swan Society, the University of Washington, and other organizations that have been working hard to locate the sources of lead shot and to stop the death of the swans. Read the entire 2008-2009 Progress Report.
TTSS FINDS RED ROCKS LAKES NATIONAL WILDLIFE REFUGE (RRLNWR) DRAFT COMPREHENSIVE PLAN UNACCEPTABLE
In its draft management plan for this refuge, U.S. Fish and Wildlife Service erroneously revised the refuge's establishment history to leave out all mention of Trumpeter Swans! RRLNWR was established in 1935 to help save the last nesting Trumpeter Swans in the United States. The draft plan is completely inadequate with regard to Trumpeter Swan management actions and fails to recognize the importance of Refuge cygnet production to the security of the Greater Yellowstone nesting population. See TTSS' extensive comments to the U.S. Fish and Wildlife Service in which we summarize the deficiencies and make recommendations. The draft plan/EA is available at this FWS site. TTSS will provide a thorough update when the final plan, which will guide the management of the Refuge for the next 15 years, is released.
TTSS' most recent Conference and our 40th Anniversary celebration were held in Whitehorse, Yukon Territory, April 17-19, 2008. The Conference focused on the history of TTSS and Trumpeter Swan conservation, especially in western Canada and Alaska. Read more...
AMOS D. FAUX-BURHANS III MEMORIAL FUND - Free Videos for School
AMOS D. FAUX-BURHANS III MEMORIAL FUND - Free Videos for School
Thanks to the generosity of the family of the late Amos D. Faux-Burhans III of Frederick, Maryland, TTSS has been making copies of the award winning video Trumpeter Blues available free to school libraries. Produced by Trailwood Films and TTSS member Bob Landis in 1987, the film follows a year in the life of a family of Trumpeter Swans in the Yellowstone Park Region. Teachers or librarians should contact the TTSS office to see about availability.
DOCUMENTARY FILM ON LEAD POISONING DEBUTS
Mystery of the Toxic Swans, a documentary film about the lead poisoning deaths of more than 2,000 Trumpeter Swans in Northwest Washington and Sumas Prairie, British Columbia, is now completed. This is a high quality production that explores the facts and follows the research to find the source of lead shot that has killed so many swans. It was aired on Canadian Television (CTV) on Saturday, January 24. We hope it will soon be aired in the U.S. and will post an alert when we hear of a date. This is a very dynamic documentary that was filmed in a variety of locations from our Conference in Whitehorse, Yukon Territory, to Washington State and several other locations around North America. TTSS helped in various phases of the production.