Photograph by US Fish and Wildlife Service
Your gift today will put a GPS Trumpeter Tracking collar on a trumpeter swan this summer
Fund a Trumpeter Tracking collar
You can help right now to track a trumpeter swan.
Your gift today to fund a GPS Trumpeter Tracking collar will answer important swan questions as soon as the swan receives it this summer.
You will give biologists who are working on swan issues the answers they need to give trumpeter swans the best chance at long term success in a changing world.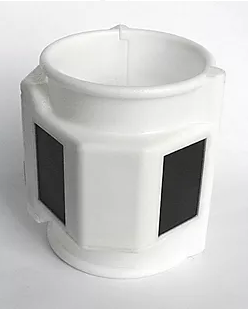 The collar you fund will answer:
Where did this swan spend the winter? Did it spend winter near its nesting grounds or far away? Where did this swan rest and find food during migration? Did the swan migrate through different areas in spring and in fall? What did the swan's movements look like on a nesting wetland- did it use all of the wetland or only parts of it?
You will help us learn if areas the swan uses during the year are protected or in need of protection and conservation.
Each collared swan's movements will be tracked and recorded on a public website (there will be a link on our website for you to see the swan travels).  Not only will you be able to see the movements of each swan, but your gift gives teachers and students the opportunity to learn about trumpeter swans and the habitats they need to thrive during the year!
Each GPS Trumpeter Tracking collar costs $1500.  Each collar is expected to transmit data for up to three years.
Your gift of any amount will be used towards the purchase of a tracking collar for where it is needed most.
Yes! I want to fund a GPS Trumpeter Tracking Collar!