Your year-end gift today helps swans across North America
Helping swans starts with you. You can continue the return of trumpeter swans to North America.
Over the past several decades, thanks to the dedication, passion and support of people like you, trumpeter swans have returned to about one third of their historic range. Our shared work is not done.
Trumpeter swans face serious threats and challenges in different parts of the continent. You can help us find solutions.
You can assure their vitality and welfare in the face of threats to wetland and wintering habitats, the discovery of new migration patterns by pioneering swans, and learning what swans most need through science-based research.
If this is your first donation, your NEW year-end donation will be matched, doubling your impact helping swans!  Your gift today will help us reach our $10,000 match by the board of directors for new donations. As of December 27, we are more than $9,000 towards our goal. Your gift today will help put us over the top!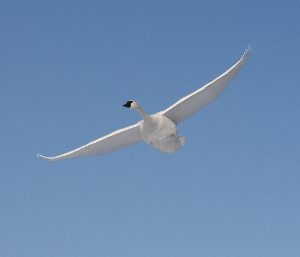 Make your year-end gift today
Because of your year-end donation, The Trumpeter Swan Society will be able to work on your behalf for swan habitat security, and health issues like lead poisoning and power line collisions.
We will be your voice at important Flyway meetings in 2019 where swan plans, management and restoration decisions will be made. You can count on us as your advocate against swan threats both regional and national. 
Because of your year-end donation, we can continue restoration of trumpeter swans in the west. Through your support we are able to fund valuable swan research that will be shared at our 25th Swan Conference in late 2019.
Because of your year-end donation you are securing the future of trumpeter swans and their habitats across North America.